presight barrier monitor™
Presight Barrier Monitor™
Combining technical, organisational and operational barrier elements into barrier functions.
Presight Barrier Monitor™ continuously monitors technical, operational and organizational barriers and displays and communicates the status of barrier functions related to planning, operating and maintaining the offshore asset.
This will enable personnel to take action to restore degraded barriers to prevent and mitigate major accidents. Presight Barrier Monitor™ provides flexible aggregation into barrier functions, barrier systems, areas, major accident risks and bow-tie visualizations ensuring that information is presented in the best possible way for the decision maker.
 Presight Barrier Monitor™ is in daily operation by several drilling contractors operating across the world and help companies to be compliant with PSA regulations on barrier management.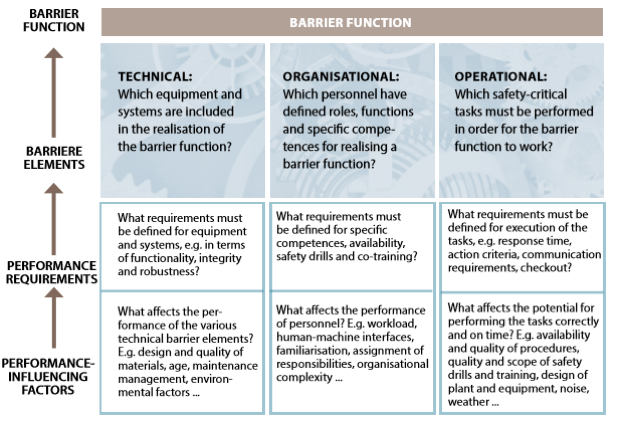 A software solution retrieving risk related information to communicate the status of barriers in a simple and understandable manner.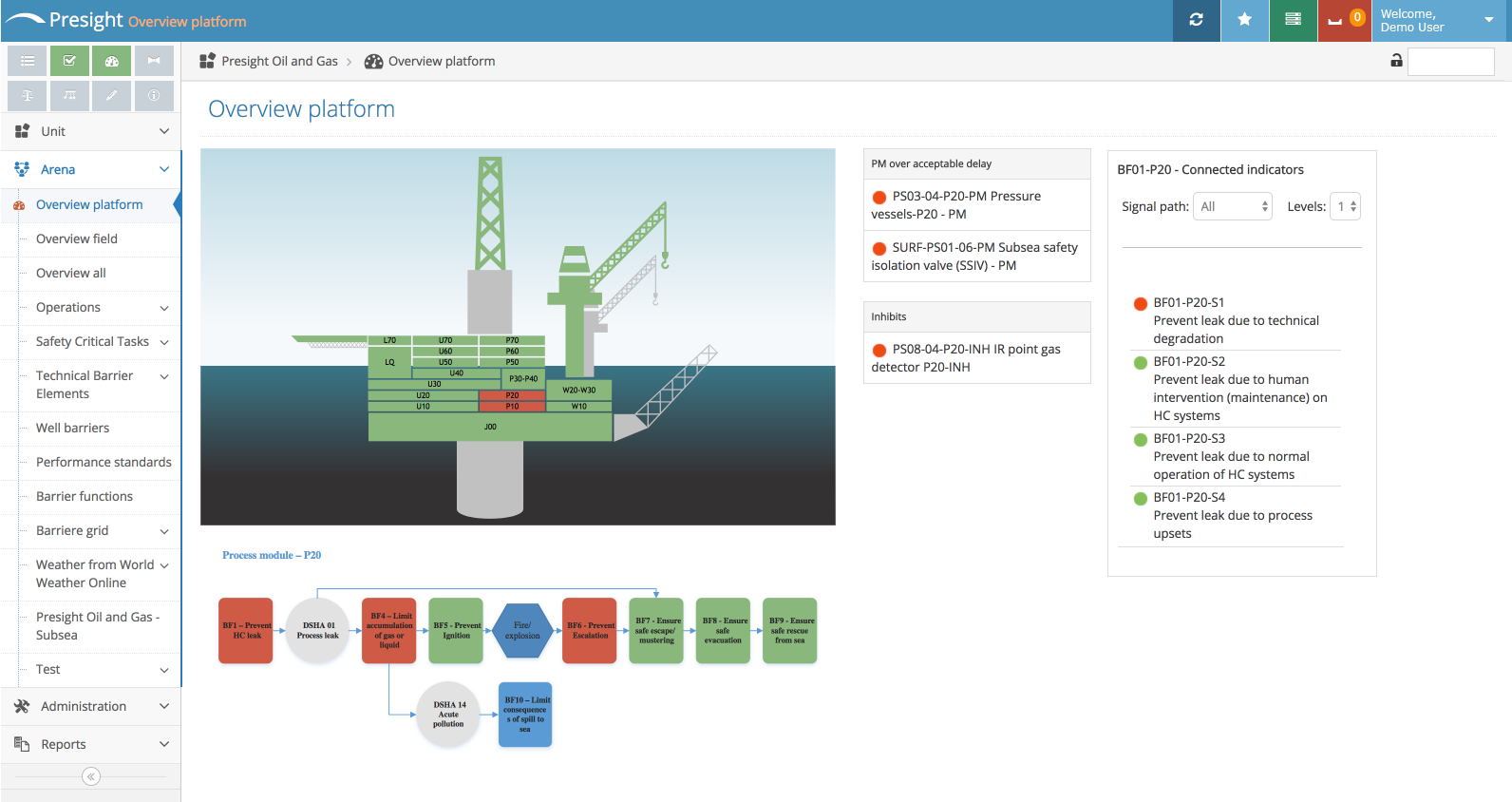 Presight Solutions launched the first commercial barrier monitoring software to combine operational, organisational and technical elements into leading safety indicators and dynamic bow-tie visualization in 2011, in the aftermath of the Deepwater Horizon accident in the Gulf of Mexico.
Presight Barrier Monitor™ continuously retrieves data from any digital system to be able to indicate the status of the barrier elements. Examples of systems are maintenance systems, competence matrices, HR/resource planning systems, documentation, training, inspections, drills, risk assessments, PtW, condition monitoring systems, inhibits- and isolation logs, etc. Presight BM communicates this information in a simple and understandable way. The barrier status is visualized on a high level, with drilldown to details on the lowest level.
Presight Barrier Monitor™ is used for both decision making and to communicate barrier awareness. Examples of use are operational planning, management of inhibits, permit to work approvals, strategic planning, maintenance planning and prioritisation and platform morning .
A successful barrier management process with monitoring of barrier status that makes information easily accessible will ensure a better HSE awareness throughout the organisation, better overview of the risk, better assessments, better decisions and thus an improved safety level.
History
 The solution was born out of a contract with Norwegian Operator Norsk Hydro in 2001. They wanted to use their current data as basis for making decisions, not relying on historic data. The software has since then been further developed with new functionality and visualization methods. The aim of the Presight Barrier Monitor™ is to provide companies with leading barrier performance indicators for crew and management in decision making situations.
We complete every project with
experience and innovation
Our experienced advisors in risk and barrier management can help you analyse your barrier strategy and find the best monitoring solutions to work efficiently and seamlessly with your organisation.
The barrier management solution can connect to any source system for automatic, up to date status of your  organisation, operations, maintenance systems, plans, logs and other available information.
A ready prototype will be subject for a strict QA to comply with the regulations set for your company and working with our partners at Lloyd's Register, so you can feel safe upon implementation.
Our Mission
Reduce risk and optimise operations by understanding current and future statues enabling data driven decisions